The tee-shirt design for the 2016 Desert Fishes Council meeting hosted in Albuquerque, New Mexico, depicts the developmental stages of a regional (famous/infamous) native cyprinid, the Rio Grande Silvery Minnow. This unique design, illustrated by W. Howard Brandenburg, will be printed on the back of an organic cotton natural color tee-shirt. The front will display the Desert Fishes Council logo, the Devils Hole Pupfish.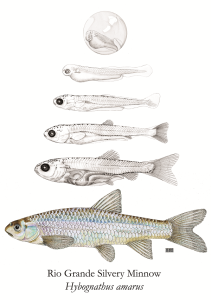 Online advanced purchasing is available here: http://dfcstore.bigcartel.com/
Watch your back (no pun intended) if wearing this tee-shirt in southern New Mexico…or Texas.