Centro de Investigación Científica de Cuatro Ciénegas (CICCC)
Cuatro Ciénegas Scientific research center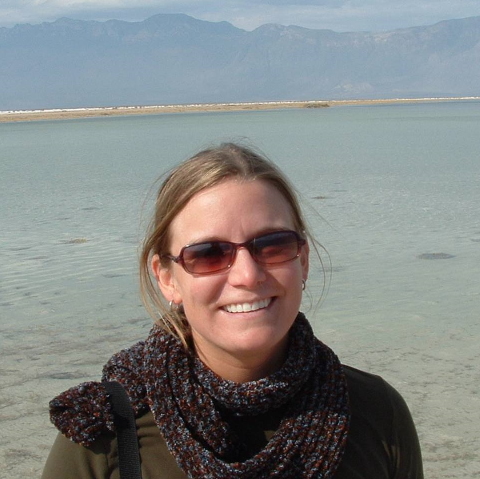 CICC Manager - Cristina Vélez (CICC.manager@gmail.com)
Cristina Vélez is a fish and wildlife biologist with over 8 years experience working cooperatively with state and federal agencies to monitor and conserve fish and wildlife in Arizona, Nevada, Texas, and Washington. She obtained a BS in Ecology, Evolution, and Conservation Biology from the University of Texas at Austin in 1998, and an MS in Wildlife and Fisheries Science from the University of Arizona in 2004. Most recently (2003-2006) she worked for the United States National Park Service at Lake Mead National Recreation Area in Boulder City, Nevada. Her main duties included surveying and monitoring all extant populations of relict leopard frogs (Rana onca), as well as the rearing and translocation of frogs to sites within their historical range. Previously (1999-2000) she worked to help recover the endangered razorback sucker fish population in the Colorado River, and monitored salmon species migrating up the Columbia River (2001). She is currently a Peace Corps Volunteer working in Cuatrocienegas, Coahuila, Mexico.
Cristina works in the Área Protegida offices, as well as at the CICC, and spends a good bit of time in the field. Thus, you may have to try more than one of the following numbers to reach her:
CICC 52-869-696-0152
APFF 52-869-696-0987
mobile 52-869-100-9510
US Skype 512-553-0747
Encargada del CICC - Cristina Vélez (CICC.manager@gmail.com)
Cristina Vélez es bióloga de peces y vida silvestre con experiencia de más de 8 años trabajando de forma cooperativa con diferentes agencias estatales y federales para el monitoreo y conservación de peces y vida silvestre en Arizona, Nevada, Texas y Washington. Obtuvo la licenciatura en Ecología, Evolución y Biología de Conservacion de la Universidad de Texas en Austin en el año de 1998 y una Maestría en Ciencias de Vida Silvestre y Peces de la Universidad de Arizona en el 2004. Del 2003 al 2006 trabajó para el Servicio Nacional de Parques de los Estados Unidos en el Área de Recreación Nacional del Lago Mead en Boulder City, Nevada. Sus responsabilidades principales incluían el monitoreo y control de todas las poblaciones existentes de Rana onca así como la crianza y reubicación en sitios dentro de su rango histórico. Anteriormente de 1999 al 2000 trabajó para la recuperación de la población de matalote jorobado en peligro de extinción en el Río Colorado, así como en el monitoreo de especies migratorias de salmón del alto Río Columbia en el 2001. Ella actualmente se encuentra trabajando como Voluntario de la organazación Peace Corps de los Estados Unidos en Cuatrociénegas, Coahuila, Mexico.