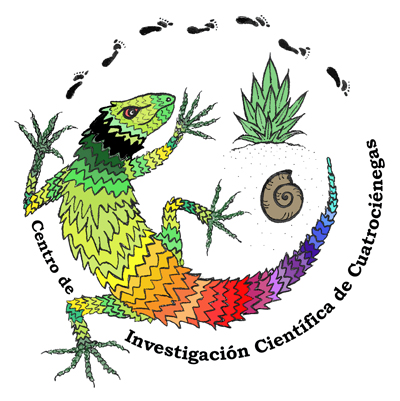 New/Nuevo - After Christmas 2007, the CICC moved to a bigger and much better new location / Después de la Navidad 2007, el CICC pasó a su más amplio y mucho mejor sede nuevo.
Following a commitment made by the membership of the Desert Fishes Council (DFC) at the group's November 2005 meeting in Cuatrociénegas to provide the basic costs of facility rent and operation, the Centro de Investigación Científica de Cuatrociénegas (CICC) opened its doors in May 2006. Desuvalle A.C. provides logistical support in the form of a local administrator, Alma Zertuche, and researchers activities are coordinated with the administration of the Área Protegida de Fauna y Flora de Cuatrociénegas (APFFCC). An oversight committee of international scientists and representatives of local and regional conservation groups, educational institutions, museums, etc. helps the CICC obtain additional support and to guide it as it matures. Subscribe to the CCCentroinvest email list to get emailed news of the Research Station as it develops.
Después del compromiso de apoyar la renta y operación básica de la facilidad por parte de los miembros del Consejo de Peces del Desierto (CPD) en su congreso anual celebrado en noviembre de 2005 en Cuatrociénegas, el Centro de Investigación Científica de Cuatrociénegas (CICC) abrió sus puertas en Mayo 2006. La Asociación Civil Desuvalle presta apoyo logístico a través de su administradora, la Sra. Alma Zertuche. Las actividades de investigación de los usuarios del CICC están coordinadas con la administración del Área de Protección de Flora y Fauna Cuatrociénegas (APFFCC). Un comité de asesores cuenta con representantes de científicos internacionales, de la comunidad local, ONG's interesados en la conservación, institutos de educación, museos entre otros, y funciona con la finalidad de obtener más apoyo para el CICC y fortalecer su seguimiento. Inscribete a la lista electrónica de email CCCentroinvest para recibir noticias sobre el Centro de Investigación.
The Station welcomes scientists and students interested in carrying out research in the Cuatrociénegas Natural Protected Area and surrounding region. Classes from colleges and universities are also welcome to use the Station, as are amateur naturalists, when space is available (first preference for space is given to researchers). Center residents live in basic, comfortable rooms provided with comfortable matresses, linens, blankets and pillows, and towels for each visitor. Visitors share a community bathroom with shower and hot water. Rooms do not have televisions or telephones (see below). Meals can be prepared and food stored in a fully equipped (refrigerator/freezer, stove, oven, pots/pans, plates, silverware) and pleasant common kitchen and dining room area. Very basic lab space is available, and some basic field equipment may be borrowed from the Center.
El CICC les da la más cordial bienvenida a todos los científicos y estudiantes interesados en llevar a cabo investigaciones en el APFFCC y la región. También pueden hacer uso del mismo estudiantes de escuelas, colegios y universidades que se inicien en el ramo de la investigación científica, como tesistas (damos preferencia a los científicos). Las instalaciones del CICC cuentan con habitaciones básicas, equipadas con colchones cómodos, sabanas, cobijas, almohadas y toallas para cada persona. Vistantes comparten un baño común con regadera y agua caliente. Las habitaciones no cuentan con teléfono (ver abajo) ni televisor. Los huéspedes del CICC pueden preparar sus comidas y guardar comestibles en la cocina comunal que cuenta con refrigerador/congelador, estufa, horno, ollas y cubiertos. El espacio básico del laboratorio está disponible así como también préstamos de equipo básico de trabajo de campo.
Vision / Visión
The CICC provides scientists, educators, students, naturalists and volunteers from around the world and especially the local community the opportunity to participate in research, workshops, and classes in one of the most biologically rich and unique desert aquatic ecosystems in the world. The Station seeks to promote knowledge and understanding of the special local fauna and flora, the environments in which they flourish, and the impacts humans have on them. By sharing data with the local community and management authorities, as well as among researchers, and facilitating exchanges between researchers and the local community we strive to provide the scientific basis necessary to assure eternal preservation of the unique biota of Cuatrociénegas for future generations.

El CICC ofrece la oportunidad de participar en la investigación científica, talleres y clases en uno de los más ricas ecosistemas desérticas del mundo a los científicos, profesores, estudiantes, interesados en la naturaleza y voluntarios, además de habitantes locales. El CICC busca promover el conocimiento de los hábitats de la fauna y flora local, así como de los impactos generados por el hombre en ellos. Con la finalidad de compartir datos con la comunidad local, las autoridades encargadas del manejo ambiental, investigadores y para facilitar los intercambios entre investigadores y la comunidad local, esperamos proveer la base científica necesaria para asegurar la preservación de la biodiversidad única del valle de Cuatrociénegas para que las generaciones futuras puedan disfrutar de ella.
History and Future of the CICC / Historia y Futuro del CICC (coming soon / pronto)
Location and how to get there / Ubicación y como llegar
The CICC is located at 204 Presidente Carranza (the street the church and Presidencia are on) a bit more than 2 blocks north of the main plaza, immediately next door to the Desuvalle office.

For those coming from the U.S. crossing at Eagle Pass or Del Río, Texas, see our driving directions.

Mexican temporary vehicle importation has recently been greatly simplified and facilitated by the ability to do everything online and have the permit mailed to you in advance. See the Banjercito vehicle importation site. On leaving the country, don't forget to cancel your importation permit if you don't plan to return before the permit expires.

El CICC se encuentra un poco más de 2 cuadras al norte de la plaza principal en 204 Presidente Carranza (la calle de la iglesia y la presidencia) al lado de la oficina de Desuvalle.

Para los llegando en auto de EEUU cruzando la frontera en Eagle Pass o Del Río, Texas, pueden consultar nuestas notas sobre como llegar.

Importación temporal de vehiculos extranjeros a México ha sido simplificado y facilitado por la capacidad de hacer todo el trámite en linea y recibir el permiso por correo. Pueden hacer el tramite en el sitio de Banjercito. Cuando salgas del pais, no olvida cancelar su permiso si no piensa usted regresar antes de la fecha de vencimiento del permiso.
Virtual tour of the new CICC (pdf) / Tour virtual del nuevo CICC (pdf)
Administration and staff / Administración y personel
Administration: The administrative office of the CICC is that of Desuvalle A.C., Presidente Carranza 202 Nte. Zona Centro, CP 27640; tel 52 (869) 696 0619, fax 52 (869) 696 0299, email: desuvalle@gmail.com). Alma Zertuche there will receive payments for station use and can answer any related questions.

Administración: La oficina administrativa del CICC es la de Desuvalle A.C., Presidente Carranza 202 Nte. Zona Centro, CP 27640. tel 52 (869) 696 0619, fax 52 (869) 696 0299, email: desuvalle@gmail.com. La Sra. Alma Zertuche puede recibir sus pagos para utilizar el centro, quien además puede contestar cualquier pregunta relacionada.

Staff: The CICC director is Dr. Dean Hendrickson of the University of Texas at Austin. Though living in Austin, he has a long history of research in Cuatrociénegas and makes regular visits to the CICC. The CICC also has two full-time, on-site staff in the form of U.S. Peace Corps volunteers filling newly created positions in SEMARNAT (CONANP). The CICC manager is M.C. Cristina Vélez moved to Cuatrociénegas in January 2007 to become the CICC's first manager. She is charged with supervising the facility's daily operations, as well as implementation of its planned biological monitoring and outreach projects. Contact her with any questions about CICC use, facilities available, volunteer opporunities, etc.Cristina is employed by the Protected Area (APFFCC) and works in close collaboration with all of its staff so is well prepared to answer any and all questions relative to visiting and conducting research in the Protected Area.

Personel: El Director del CICC es el Dr. Dean Hendrickson de la Universidad de Texas en Austin. Aunque vive en Austin, el tiene una larga historia de hacer investigaciones en Cuatrociénegas y visita al valle frecuentamente. El CICC también cuenta con dos personas de tiempo completo en Cuatrociénegas. Son voluntarios del Peace Corps de los EU, pero ocupan puestos en SEMARNAT (CONANP). M.C. Cristina Vélez es la encargada del manejo del CICC, supervisando operaciones cotadianas, implementando sus programas de monitoreo biológico y educación ambiental. Comunique a ella con todas preguntas relativas al uso del CICC, la planta física, habitaciones, y oportunidades para voluntarios. Cristina es empleado del Área Protegida (APFFCC) y trabaja en colaboración con todo su equipo de empleados, entonces está muy bién preparada para responder a preguntas relativas a visitas y como llevar a cabo proyectos de investigación en el Área Protegida.
Rules / Reglas
Please review our rules and regulations for use of the CICC before you plan your visit. They are also posted in the facility. Please ask the administrator for them if you don't find them in your room and other spaces. We always welcome your suggestions regarding any aspect of facility management and rules at any time.

We provide a bilingual PowerPoint presentation prepared by the CICC manager (as employee of the CONANP Resere office) in spring 2008 to help researchers with the process of obtaining required permits for their activities in the area.

Favor de leer nuesto reglamento para el uso de la CICC antes de planear tu visita, Se encuentran copias en el Centro de Investigación. Favor de pedir copias de la encargada si no las encuentres en tu habitación y otros espacios. Sus sugerencias serán siempre bienvenidas.

Ofrecemos un fichero PowerPoint bilingüe preparado en primavera de 2008 por la encargada del CICC en su capacidad como empleada de CONANP para explicar a los investigadores los trámites de permisos necesarios para sus actividades en el area.
Fees / Tarífas
When the station opened its doors, basic support from the Desert Fishes Council paid most of the basic costs of rent and maintenance. That small group, however, is incapable of sustaining that expense. Fees charged to users will eventually have to become a major contributor to our budget, but we are also actively seeking other external support. DFC continues committed to the cause and recognizes that our mission is best served by keeping fees charged to users as low as possible. Our current fee structure is as low as it can be thanks to the Desert Fishes Council's subsidy. It is also flexible and takes into account the varied abilities of our clients to pay. Nonetheless, users should anticipate that fees will evolve as the station matures and as external funding inevitably varies. We welcome any help that might be offered when it comes to obtaining external support.

The CICC can provide receipts ("recibos fiscales") in Cuatrociénegas for your payments through DESUVALLE A.C. These should be adequate for any U.S. or other bureaucracy and it is now possible to pay online with a credit card and receive an electronic receipt from DFC immediately. Visit the Desert Fishes Council online store, click on "Research Station Fees", select the category (see the current fee structure page for details), enter the number of days you will stay, and don't forget to also submit the required reservation form (below).

En el momento de abrir nuestras puertas, el CPD estaba pagando la mayoría de los gastos básicos de renta y mantenimiento del CICC. Esta pequeña organización sigue comprometida al CICC pero no es capaz de sostener este gasto a largo plazo. El acuerdo con el CPD es que mientras vaya creciendo el uso del sitio, las tarifas cobradas a los usuarios pagarán cada vez más de los gastos hasta que sea auto sustentable el CICC. Mientras tanto, CPD sigue contribuyendo como pueda y estamos en busca de otros apoyos externos. Reconocemos que cobrar tarifas mínimas a nuestras clientes facilita el logro de nuestra misión y gracias al subsidio que nos da el CPD las tarifas actuales están al mínimo. Sin embargo, es posible que las tarifas cambien mientras se consolida la estación según las variaciones inevitables del apoyo externo recaudado. Por lo anterior, son bienvenidas ofertas de todo tipo de ayuda en cuanto a obtener apoyo externo adicional.

Usted podrá comprobar los gastos de la estancia en la Estación de Campo del Centro de Investigación, solicitando un recibo fiscal a la organización DESUVALLE, A.C. o se puede pagar con tarjeta de crédito y recibir un comprobante electrónico del CPD inmediatamente. Visite la tienda online del Consejo de Peces del Desierto, haz clic sobre "Research Station Fees", escojer su categoría (ver descripciones en tarifas actuales), entra el número de días de estancia, and no olvida enviar además el formato de reservación (abajo).
Reservations / Reservaciones
Please use our online Reservation form.

Favor de usar nuestra Formato de reservation en linea.
Information for Volunteers / Información para Voluntarios
Communications (telephones, Internet) / Comunicaciones (teléfono / Internet)
Answers to general questions may be obtained by calling the Administrative Office (above) or the CICC Manager. The telephone at the CICC may not be used for outgoing, long distance calls and messages received there (52 869 696 0152 - direct dial from US by preceding this with 011) will be relayed to residents only in cases of emergency. A public phone is available a few blocks from the CICC in front of the Plaza de Toros. Others are available elsewhere in town, with many in the plaza area. All public phones take digital phone debit cards that may be purchased from local vendors.

We have installed a wireless network with high speed Internet access and offer free acces to guests. It can usually be accessed in the kitchen, office and the front porch of the rooms. A desktop computer is available to those without laptops with wireless.

Usted puede dirigir sus preguntas al teléfono de la Oficina Administrativa (arriba) o a la encargada del CICC. El teléfono en el CICC (52 869 696 0152) no se puede usar para llamadas de larga distancia y los recados que se dejen en este número se pasarán a los huéspedes solo en casos de emergencia. Los teléfonos públicos están disponibles a pocas cuadras del CICC en frente de la Plaza de Toros y en la plaza principal de Cuatrociénegas, los cuales aceptan tarjetas digitales que se puede comprar en varios negocios del pueblo.

Hemos instalado una red inalámbrica con acceso de alta velocidad al internet que es accesible a los huéspedes. Es accesible de la cocina, oficina y en frente de las habitaciones. Una computadora de escritorio está disponible en la oficina a los que no traen su propio laptop con equipo de inalámbrica.
Research data / Datos para investigadores
In accord with our mission we hope to offer useful data sets to researchers here. Please consider sharing your own data (including photos, collections data, water quality data, etc.). To publish your data here, communicate your interest to Dean Hendrickson (deanhend@mail.utexas.edu).

De acuerdo con la misión del CICC, esperamos ofrecer aquí datos útiles para todos los investigadores. Favor de considerar lo posibilidad de compartir sus propios datos por medio de estas páginas (incluyendo photos, datos de colectas, calidad de agua, etc.). Para publicar sus datos aquí, comunicar su interes a Dean Hendrickson (deanhend@mail.utexas.edu).
Working Groups / Grupos de Trabajo
We strive to facilitate organization of groups of researchers, managers and others with common interests to facilitate communications and collaborations. As such groups become active they will be listed below:

Esperamos facilitar organización de grupos de investigadores, manejadores y otros con intereses comunes para facilitar comunicaciones y colaboraciones. Mientras tales grupos nacen, los enlistamos abajo:
What we need / Que nos falta
We have many needs for basic equipment and are most appreciative of gifts of new or used items that help satisfy our own adminstrative needs and those of the researchers who use the facility.

Necesitamos mucho equipo básico y siempre agradecemos donativos de cualquier articulo nuevo o usado que nos ayude satisfacer nuestras necesidades administrativas y las de los investigadores.