Full details about the meeting and the new abstract submission system will be published July 1 in our new meeting management system and the new and improved DFC Online Store will soon open for payment of meeting registration and membership dues, but meanwhile, here are the basics:
We are excited to announce that the 49th annual meeting of the Desert Fishes Council will be held November 15th-19th at Hotel Araiza in San Luis Río Colorado, Sonora! San Luis is a small border city (150,000 residents) just 25 miles south of Yuma, Arizona, along the banks of the lower Colorado River, an important waterbody in the history of the Desert Fishes Council. San Luis is easily reached via numerous daily flights into Yuma (from USA) or Mexicali (from Mexico) and shuttles will be available from those airports to our meeting venue.
Our local host is Martha Román and the meeting is being sponsored by CEDES, CONANP, and a local biosphere reserve. Thanks to the cooperation of these sponsors, we will take field trips to two beautiful biosphere reserves, Alto Golfo de California y Delta del Río Colorado and El Pinacate y Gran Desierto de Altar, the latter of which is a UNESCO World Heritage site. More details regarding hotel reservations and the special symposium will be released soon.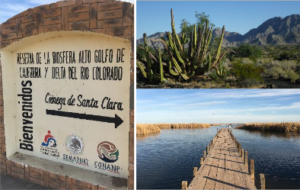 So, please bookmark this page for easy return to check for updates, and we suggest all interested also subscribe to the Council's email discussion list (DFC-L) to be sure to get all future meeting-related news. Contact local host Martha Roman (avoceta63@gmail.com) or DFC president Michael Bogan (michaelthomasbogan@gmail.com) with any questions or concerns.
We hope to see you in San Luis Río Colorado this November!